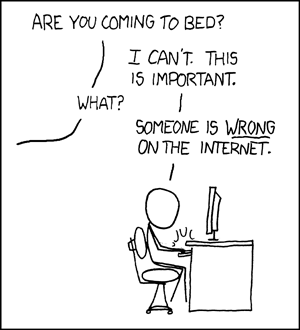 I enjoy interacting with Southern Baptist minister Wade Burleson, and fellow commenters, on his blog. Wade has recently announced that he will be discontinuing his blogging (or at least the comments portion) in order to focus more on other aspects of his ministry/career.

I will be a Father to my child regardless of whether he trusts me or not. That is what the "natural law" inside me, my moral intuition, tells me is right.

I would never close the door eternally on my child.

Should I expect less of God?

Mon Oct 18, 01:08:00 AM 2010

Hi Steven,

What I am going to say is not popular and many Christians disagree with it. But a picture of God's attributes is never complete without including His Wrath. Many tend to skip over those parts of the Word because they are uncomfortable.

When Jesus Christ comes back, He is coming like this:

11 Now I saw heaven opened, and behold, a white horse. And He who sat on him was called Faithful and True, and in righteousness He judges and makes war. 12 His eyes were like a flame of fire, and on His head were many crowns. He had a name written that no one knew except Himself. 13 He was clothed with a robe dipped in blood, and His name is called The Word of God. 14 And the armies in heaven, clothed in fine linen, white and clean,[f] followed Him on white horses. 15 Now out of His mouth goes a sharp[g] sword, that with it He should strike the nations. And He Himself will rule them with a rod of iron. He Himself treads the winepress of the fierceness and wrath of Almighty God. 16 And He has on His robe and on His thigh a name written:

KING OF KINGS AND LORD OF LORDS.

Rev 19

Here is a snippet of what happens in Rev 21:

5 Then He who sat on the throne said, "Behold, I make all things new." And He said to me "Write, for these words are true and faithful."
6 And He said to me, "It is done! I am the Alpha and the Omega, the Beginning and the End. I will give of the fountain of the water of life freely to him who thirsts. 7 He who overcomes shall inherit all things, and I will be his God and he shall be My son. 8 But the cowardly, unbelieving, abominable, murderers, sexually immoral, sorcerers, idolaters, and all liars shall have their part in the lake which burns with fire and brimstone, which is the second death."

If you read the OT to the NT, you can see where God gives multiple warnings to people and proof of His Sovereignty in not only caring for them but saving them from total destruction. But so many times they turned their backs on Him. Even to the point of demanding a king like the pagans when God told them He was their King.

And then He, totally innocent, becomes Sin for us so that we might have His righteousness and eternal life.

The question for me becomes not why would God close the door eternally upon someone, BUT, why have people ignored all the warnings and the truth of the Sacrifice of Jesus Christ and His resurrection?